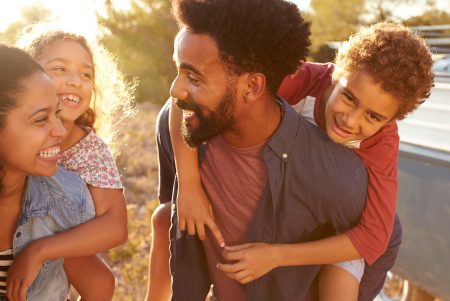 You're probably already aware that a parent with a job outside the house most likely needs life insurance to protect their loved ones in case something were to happen. But it's not just breadwinners who need coverage—stay-at-home parents do, too. Here are nine reasons why.
1. To replace the value of their labor. Stay-at-home parents are caretakers, tutors, cooks, housekeepers, chauffeurs, and so much more 365 days a year. And all that work comes with a price tag: Salary.com reports that stay-at-home-parents contribute the equivalent of a $162,581 annual salary to their households. If the unthinkable were to happen, a surviving partner would be on the hook for a slew of new expenses that the stay-at-home parent previously shouldered. Term life insurance is generally a quick and affordable way to get a substantial amount of coverage like this for a specific period of time, such as 10 or 20 years—often until you pay of your mortgage or the kids are grown and gone.
2. To factor in the contributions of any future income. Many stay-at-home parents return to the workforce once their kids are older. Life insurance could help bridge the gap that their future earnings would have contributed to the household.
3. To pay off any debt. From student loans to credit card debt to an informal loan from a family member, there are lots of ways to owe money. Life insurance can help settle any debts left behind so they don't create stress for grieving loved ones.
4. To cover funeral expenses. Would you believe that the average funeral runs between $7,000 and $10,000, according to parting.com? And that may not cover the cost of the burial, headstone and other expenses. Many families want to honor a loved one's memory, but have trouble finding the funds to cover all the costs. Fortunately, the payout from a life insurance policy can help cover final wishes.
5. To leave a legacy. If a stay-at-home spouse has a passion for a place of worship, an alma mater, or another nonprofit organization, life insurance proceeds can be used to leave a meaningful charitable gift.
6. To boost savings. Permanent life insurance, which offers lifelong protection as long as you pay your premiums, may offer additional living benefits such as the ability to build cash value. This can be used in the future for any purpose you wish, from making a down payment on a house to paying for college tuition. Keep in mind, though, that withdrawing or borrowing funds will reduce your policy's cash value and death benefit if not repaid.
7. To guarantee insurability. Your health can change in an instant. Getting a permanent life insurance policy when you're young and healthy means you'll have lifelong coverage. Then you won't have to worry if later on you develop a health condition that would make it hard or even impossible to get life insurance.
8. To receive tax-free benefits. Life insurance is one of the few ways to leave loved ones money that is generally income-tax free.
9. To give loved ones peace of mind. Losing a parent and partner before their time is already hard enough without having to worry about unsettled debts, childcare costs, funeral bills, and other expenses.
As you can see, life insurance for stay-at-home parents is just as important as it is for parents who work outside the home. Schedule a time to talk with an insurance professional in your community to learn about your options and get coverage that fits your lifestyle and budget.
By Amanda Austin
Originally posted at lifehappens.org